— OCEANS and CLIMATE CHANGE—
Oceans
&

Climate Change

RICHARD WIDICK
— curator —
Richard Widick is a Sociologist and Visiting Scholar at the Orfalea Center for Global & International Studies at UN Santa Barbara, where he participates in the Environmental Justice and Climate Justice Studies Research Hub (EJ/CJ).
Oceans—the planetary heat sink, moderator of microclimates, machine of biodiversity.  For climate change, critical sustainability, and climate justice studies… can there be a more immediate concern?
This month, for example, June 1 – June 5, 2020, the World Economic Forum hosted the Virtual Oceans Dialog (because COVID-19 has forced the cancellation of the Lisbon-planned conference).  Follow these links and tune in to study the role of Oceans in Climate Change:
NOURISHING BILLIONS
Speakers: Audun Lem, Jim Leape, Agnes Matilda Kalibata, Rosamond Naylor, David Nabarro, Shakuntala Thilsted, Giles Bolton
June 3, 2020 17:00 – 18:15CET
These and similar dialogs are crucial for learning and teaching about the role of Oceans in responding to climate change, exploring critical sustainability, and building climate justice studies.
Exploring the links above to this month's Virtual Ocean Dialogs, you will find scores of archived discussion by the world's most distinguished scientists, activists, politicians and activists.
These digital archives are a rich source of deliverable classroom resources, including the LiveStream and a live-updated blog to which the participants have posted dozens of additional resources.
It's true that the challenge of addressing the role of Oceans in the Climate Crisis is daunting — but this page can be a resource for teachers across the disciplines trying to wrap their head around the problem.
COPERNICUS MARINE SERVICE – Ocean State Summary Report, June 2020 (download Site)[PDF]
The Ocean State Summary Report is an excellent classroom resource for understanding the Oceans and Climate Change — 20 pages of excellent graphics and definitions distinguishing and explaining impacts to the Blue (the physical ocean), White (floating ice) and Green Ocean (oceanic biogeochemical processes: acidification, deoxygenation, etc.)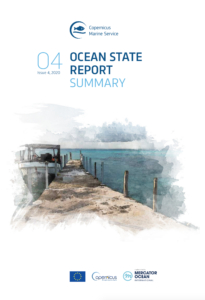 QUOTE: The Ocean State Report is an annual publication of the Copernicus Marine Service that provides a comprehensive and state-of-the-art report on the current state, natural variations, and ongoing changes in the global ocean and European regional seas. It is meant to act as a reference European Union report for the scientific community, international and national bodies, and the general public.
Using satellite data, models and reanalyses, and in situ measurements, the Copernicus Marine Ocean State Report provides a 4-dimensional view (latitude, longitude, depth, and time) of the blue (e.g. hydrography and currents), white (e.g. sea ice) and green (e.g. biogeochemical) ocean. It draws on expert analysis and is written by over 100 scientific experts from more than 30 European institutions. Scientific integrity is assured through a process of independent peer review in collaboration with the Journal of Operational Oceanography.
Updated — September 2, 2020
Sustainable Ocean Initiative (SOI) of the United Nations Convention on Biological Diversity (CBD).
What is the Convention? Signed by 150 government leaders at the 1992 Rio Earth Summit, the Convention on Biological Diversity is dedicated to promoting sustainable development. Conceived as a practical tool for translating the principles of Agenda 21 into reality, the Convention recognizes that biological diversity is about more than plants, animals and micro organisms and their ecosystems – it is about people and our need for food security, medicines, fresh air and water, shelter, and a clean and healthy environment in which to live. Learn more…
FULL TEXT: UN Convention on Biological Diversity (PDF)
Sustaining Life on Earth: How the Convention on Biological Diversity promotes nature and human well-being (PDF by CBD, 2000).
Global Biodiversity Outlook 4 (PDF: UN, UNEP CBD, 2014)[see also Outlooks 1-3]
Sustainable Ocean Initiative (SOI) of the United Nations Convention on Biological Diversity (CBD).
What is the Convention? Signed by 150 government leaders at the 1992 Rio Earth Summit, the Convention on Biological Diversity is dedicated to promoting sustainable development. Conceived as a practical tool for translating the principles of Agenda 21 into reality, the Convention recognizes that biological diversity is about more than plants, animals and micro organisms and their ecosystems – it is about people and our need for food security, medicines, fresh air and water, shelter, and a clean and healthy environment in which to live. Learn more…
FULL TEXT: UN Convention on Biological Diversity (PDF)
Sustaining Life on Earth: How the Convention on Biological Diversity promotes nature and human well-being (PDF by CBD, 2000).
Global Biodiversity Outlook 4 (PDF: UN, UNEP CBD, 2014)[see also Outlooks 1-3]
LAUNCHED at the COP 21, Paris, 2015
— 39 Signatory Countries —
Salty Cinema: The Ocean Amidst a Global Shutdown (Scripps Oceanography, June 18, 2020)
The Ocean: A Driving Force for Weather and Climate – NASA Goddard (2018)
Feeling the Heat: The Biology of Global Warming, UCTV Dec. 7, 2018
OCEAN MOOC: ONE PLANET – ONE OCEAN (2016)